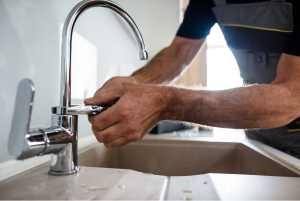 If you own a home, there will almost certainly come a time when you need to contact a plumber. Plumbers provide a range of different plumbing services, which are all integral to the overall operation of modern homes.  
You might be wondering: what services does a residential plumber in Skokie, Illinois provide? We are going to review some of the most popular services below.
Drain Cleaning Services
Due to the nature of what they're used for, drains get dirty. There's little you can do to stop them from doing so. However, that doesn't mean that you need to put up with dirty drains. In fact, you should have yours cleaned every six months or so.
Cleaning your drains not only reduces the instances of clogs but it also helps to protect your drainpipes, thereby increasing their lifespan. Need help cleaning your drains? Do not hesitate to contact a residential plumber in Skokie, Illinois.
Flood Control Services
Some yards are ultra-prone to rainwater and can flood entirely during heavy storms. Fortunately, if you have one of these yards, there's something you can do to combat this problem: you can utilize professional flood control services.
Residential plumbers in Skokie, Illinois provide these services to homeowners all the time. They can install a series of drain tiles in your yard, install extensions on your downspouts, and incorporate several other waterproofing solutions to prevent flooding in your yard.
Sump Pump Services
Do you have a home with a basement? If so, you'll want to do everything in your power to protect it from flooding. The primary step in doing so is to install a sump pump. A sump pump will reduce groundwater levels around your home, preventing flooding during heavy storms.
Who should you call when you need to install a sump pump? A licensed residential plumber in Skokie, Illinois. In addition, a licensed plumber can repair your sump pump anytime it runs into problems.
Water Heater Services
What good is a plumbing system without hot water? You need hot water for showers, baths, clothes washing, dish washing, and a variety of other tasks. To have hot water on a consistent basis, however, you need a properly functioning water heater.
This is where a licensed plumber comes in. Plumbers are not only well-versed in installing water heaters, but in repairing and maintaining them as well. Any time you need help with a water heater, do not hesitate to contact a residential plumber in Skokie, Illinois.
Pipe Repair Services
Maybe the water froze in your pipes, causing one or more of them to burst. Perhaps something collided with one of your pipes, causing it to crack wide open. Regardless, if you need pipe repair services, there's only one person you should call: your plumber.
Plumbers deal with broken pipes on a regular basis and know exactly how to handle them. Your plumber will come to your home, shut off your water, and then patch or replace the affected pipe as needed.
Emergency Plumbing Services
Whether it's a burst pipe spilling water out onto the floor, an overflowing toilet, or otherwise, if you run into an emergency plumbing problem, your local Skokie plumber can assist you. Call at any hour of the day and your plumber will be there as soon as possible to assist you.
Looking for the Top-Rated Residential Plumber in Skokie, Illinois?
Are you currently dealing with any plumbing issues at your home? If so, John J. Cahill, Inc. is the company to call.
As the top-rated residential plumbers in Skokie, Illinois, our crew provides all the services reviewed above. Regardless of the type of plumbing issue you are facing, we can provide a solution. Contact us today at (847) 864-5225 to get started.