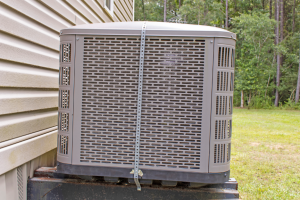 Are you having issues with your air conditioning unit? Is it well over a decade old? If so, now is the time to think about a replacement. The question is: which type of air conditioning unit is best for your home?
There are many kinds of air conditioning units available today that all perform slightly differently. Are you interested in learning about some of the most popular options that are available? This AC installation company in Wilmette, Illinois is going to review them below.
Central AC
First, we're going to discuss central AC. Central air conditioning involves running a single air conditioning unit throughout a home. Central ACs work in tandem with a system of ducts, allowing them to move air from point A to points B, C, D, E, and so on.
These systems provide the most bang for the buck. They enable you to cool an entire home with just a single unit, meaning you'll only have to pay for that single unit. This is, by far, the most affordable way to cool a home in its entirety. Note, though, that if you're only looking to cool a room or two, there are more affordable options available.
The installation of central AC is relatively extensive, especially if you don't already have ductwork installed. That said, if you partner with the right AC installation company in Wilmette, Illinois, you shouldn't run into any problems.
Ductless Mini-splits
Next, we're going to discuss ductless mini-split systems. These systems are equipped to cool single rooms, not entire homes. If you wanted to cool your entire home with ductless mini-split units, you could. You would just need to install one in each room of your home. This is not the best option when cooling the entire house as it would be much more expensive than just installing a single central air unit.
The benefit of ductless mini-splits is that they allow for temperature variation throughout the house. In other words, if you wanted to set your bedroom at 68 degrees and your living room at 72 degrees, ductless mini-splits would enable you to do so.
One potential downside to ductless mini-splits is that they need to be mounted on the interior walls of their respective rooms. Because of this, they can take away from a home's overall aesthetic.
Window ACs
Commonly used in apartments, window ACs are portable AC units that are plugged directly into electrical outlets. They're designed to provide single rooms with adequate cooling and, by and large, are effective in doing so.
That said, window ACs are highly inefficient. Not only do they waste a lot of the air that they produce but they also require a lot of electricity to run. Because of this, their operational costs tend to be high.
Window ACs work in temporary situations. However, they really shouldn't be used on a permanent basis. In the long run, it's much cheaper to install central AC or ductless mini-split systems. If you're interested in installing central AC or a ductless mini-split, do not hesitate to reach out to your local AC installation company in Wilmette, Illinois.
Looking for an AC Installation Company in Wilmette, Illinois?
Are you interested in installing a new air conditioning system in your home? Regardless of the type of system you'd like to install, the HVAC experts at John J. Cahill, Inc. are the people to call.
As the top-rated AC installation company in Wilmette, Illinois, we have installed new air conditioning systems in countless homes and businesses throughout the Wilmette area. Contact us today at (847) 864-5225 to request a free estimate.