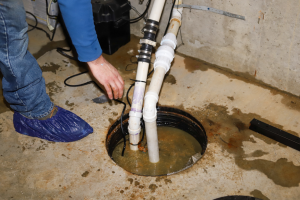 In the Morton Grove area, where heavy rainfall is not uncommon, having a functional sump pump is essential for every homeowner. A sump pump is a device that helps prevent water damage by removing excess water from the basement or crawl space of a home. Its primary function is to pump out the water and redirect it away from the home, which prevents structural damage and potential flooding.
A sump pump is not something you'll want to install on your own. Given the importance of these systems, it's best to leave this work in the hands of a professional sump pump installer in Morton Grove, Illinois. We are going to explain why below.
The Importance of Hiring a Professional Sump Pump Installer
When it comes to installing a sump pump in your Morton Grove home, it is crucial to enlist the services of a professional sump pump installer. While some homeowners may consider installing a sump pump themselves to save money, this can be a costly mistake in the long run. A professional installer will have the knowledge, experience, and tools required to ensure that the sump pump is correctly installed and functioning optimally.
One of the main reasons to hire a professional sump pump installer is to ensure the proper sizing and placement of the sump pump. A professional will assess the specific needs of your home, taking into consideration factors such as the size of the basement or crawl space, the water table level in your area, and the average rainfall. This allows them to determine the appropriate size and type of sump pump that will effectively manage the water flow in your home.
Additionally, a professional sump pump installer in Morton Grove, Illinois will ensure that the sump pump is connected to a reliable power source and equipped with a battery backup system. This is crucial during power outages or in the event of a failure in the primary power source. By hiring a professional, you can have peace of mind knowing that your sump pump will continue to operate even during adverse conditions.
Questions to Ask a Sump Pump Installer Before Hiring Them
Before hiring a sump pump installer, it is essential to ask them the right questions to ensure that they are the right fit for your needs. Here are some important questions to ask:
Are you licensed and insured? This is crucial to protect yourself from liability and ensure that the installer meets all legal requirements.

What experience do you have with sump pump installations? It is important to choose an installer who has ample experience and a proven track record in installing sump pumps.

Do you provide warranties or guarantees for your work? A reputable installer should offer warranties to ensure customer satisfaction and provide peace of mind.

What is the estimated cost of the installation? Obtain a detailed quote that includes all costs associated with the installation, including any additional materials or services required.

Can you provide references or examples of past installations? This will allow you to assess the quality of their work and get feedback from previous customers.
Asking these questions will help you make an informed decision and choose a sump pump installer in Morton Grove, Illinois who is reliable, experienced, and capable of meeting your specific needs.
Looking for a Sump Pump Installer in Morton Grove, Illinois?
Are you ready to have a new sump pump installed in your home? Need to have your current sump pump serviced? In either case, John J. Cahill Plumbing, Heating & Air Conditioning is here to help. As the top-rated sump pump installers in Morton Grove, Illinois, our team is equipped with the knowledge and skills required to handle all your sump pump installation and maintenance needs. Contact us today at (847) 864-5225 to schedule an appointment.