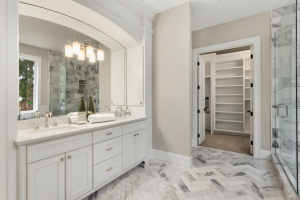 Are you looking to transform your outdated bathroom into a modern and functional space? A bathroom remodel can breathe new life into your home and enhance your daily routine.
Before you get started on your bathroom transformation, there are a few key things you'll want to consider — some of which often get overlooked by first-time remodelers. Are you wondering what these include? This bathroom remodeling company in Highland Park, Illinois is going to discuss below.
Must-Have Additions for Your Bathroom Remodel
When planning your bathroom remodel, it's essential to consider the must-have additions that will elevate the functionality and aesthetics of your space. One of the top additions you should consider is a walk-in shower.
Not only does a walk-in shower provide a luxurious and modern feel, but it also offers convenience, especially for those with limited mobility. Additionally, a freestanding bathtub can add elegance and relaxation to your bathroom. By incorporating these must-have additions, you can create a spa-like oasis within your own home.
Another important addition to consider is a double vanity. This feature not only adds functionality by providing ample countertop space and storage, but it also enhances the overall aesthetic of your bathroom.
With a double vanity, you and your partner can have your own designated areas, making your morning routine more efficient. Moreover, installing a heated towel rack can bring a touch of luxury to your bathroom remodel. It's a small addition that can make a big difference in your daily routine.
Upgrading Your Bathroom Fixtures and Fittings
In any bathroom remodeling project, upgrading your fixtures and fittings is crucial to achieving a modern and polished look. Your bathroom remodeling company in Highland Park, Illinois can replace your old, worn-out faucets with sleek, contemporary designs. They can also help you find the right fixtures that complement the overall style of your bathroom — whether it's traditional, transitional, or modern.
Additionally, replacing your outdated toilet with a water-efficient model will not only save you money on your water bill, but it will also contribute to an eco-friendlier bathroom. Investing in high-quality fixtures and fittings will not only enhance the aesthetics of your bathroom, but also improve its functionality and longevity.
When it comes to upgrading your bathroom fixtures, don't forget about the importance of a high-quality showerhead. A rainfall showerhead can provide a luxurious and relaxing shower experience, while a handheld showerhead offers convenience and versatility.
The Importance of Proper Lighting in Your Bathroom Remodel
Proper lighting is often overlooked in a bathroom remodel, but it plays a crucial role in creating a functional and inviting space. When planning your bathroom lighting, you may want to consider layering different types of lighting for optimal functionality and ambiance.
Start with task lighting around the vanity area to ensure proper visibility for grooming and applying makeup. You can achieve this by installing wall sconces or pendant lights on either side of the mirror. Additionally, consider adding recessed lighting in the shower area to provide ample light for a safe and comfortable bathing experience.
To create a soothing and relaxing atmosphere, you can ask your bathroom remodeling company in Highland Park, Illinois to incorporate ambient lighting in your bathroom remodel. This can be achieved by using dimmable overhead lights or installing LED strip lights along the perimeter of the ceiling.
Lastly, don't forget about accent lighting to highlight architectural features or decorative elements in your bathroom. By carefully planning and selecting the right lighting fixtures, you can create a bathroom that is not only functional, but also visually appealing.
Maximizing Storage Space in Your Bathroom Remodel
Storage is often a challenge in bathrooms, but with the right strategies, you can maximize the available space and keep your bathroom organized and clutter-free. You may want to incorporate built-in shelving or floating shelves above the toilet or beside the vanity for additional storage. This will allow you to display decorative items while keeping essential toiletries within reach. You can also utilize vertical space by installing a tall linen cabinet or a wall-mounted storage unit. These additions can provide ample storage for towels, toiletries, and other bathroom essentials.
Another clever storage solution is installing a mirrored medicine cabinet. Not only does it provide storage for your medications and personal care items, but it also serves as a mirror, saving you valuable wall space.
Looking for a Bathroom Remodeling Company in Highland Park, Illinois?
Are you ready to embark on a bathroom remodeling project? Ready to partner with the most trusted bathroom remodeling company in Highland Park, Illinois? If so, John J. Cahill Plumbing, Heating & Air Conditioning is the top choice. With our expertise and dedication to customer satisfaction, we can help you transform your bathroom into a beautiful and functional space.
Contact us today at (847) 864-5225 to learn how we can help.