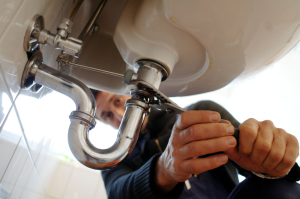 Your plumbing system is vital to the operation of your home. If it runs into any problems, your ability to complete routine tasks throughout the day could be greatly diminished. With that said, it's important for homeowners to keep an eye on their plumbing system and tend to any problems in a timely manner.
As you may know, plumbing systems can be relatively complex, which is why it's best to reach out to a professional if you run into any issues. Are you interested in learning about some of the most common services that residential plumbers offer? If so, you've come to the right place. This plumbing contractor in Skokie, Illinois is going to review them below.
1. Drain Cleaning
As time passes, and as more things go down a drain, the more residue that builds up within the drain. At first, this might result in nothing more than foul smells. Then, drainage may start to slow. Eventually, the drain might cease to drain at all.
That is why, every year or so, it's best to have your drains cleaned by a licensed plumbing contractor in Skokie, Illinois. Licensed plumbers have not only the knowledge needed to properly and safely clean drains, but the tools and resources as well. They'll have your drains operating like new in no time.
2. Sump Pump Repair/Replacement
Do you have a basement? If so, you would be wise to have it equipped with a sump pump. A sump pump will prevent water from pouring into the basement, and preventing flooding during storms.
Like all systems, sump pumps occasionally run into issues. In some cases, these issues require quick repairs. In other cases, they may require full-on sump pump replacements. If you need assistance with either, you can always reach out to your local plumbing contractor in Skokie, Illinois.
Any experienced plumbing contractor will understand the ins and outs of all kinds of sump pumps, and they will be able to fix your system so that it operates like it should.
3. Water Heater Services
Without hot water, your home is going to suffer. Not only will you struggle to take comfortable showers, but you'll also struggle to thoroughly clean your dishes and clothing as well. This is why it's vital to keep your water heater functional.
Unfortunately, water heaters break down occasionally if they are not properly maintained. This is where a plumbing contractor in Skokie, Illinois can help. They understand how to repair and maintain all types of water heaters, and they can ensure that yours is up and running again to the best of its capabilities. 
If need be, they can even replace your water heater with a new one. There are all sorts of top-notch water heaters on the market today, and your plumber will be happy to help you find the right option for your home.
We also have certified technicians on staff who are trained to install and repair Navien Tankless Heaters, which are some of the highest-rated options available. Contact us today to learn more about this option.
4. Pipe Repair
The last service we're going to discuss is pipe repair. When a pipe bursts or leaks, you can't wait until tomorrow to fix it. Fortunately, professional plumbers provide emergency services, and can show up to repair your burst pipe at any time. 
Whether it's 12:30 PM, 3:30 AM, or otherwise, you can always get in touch with an emergency plumber in your area. They'll show up with all the necessary tools and either repair or replace your leaking pipe.  
Looking for a Plumbing Contractor in Skokie, Illinois?
Are you currently dealing with any of the plumbing issues mentioned above? If so, and if you're looking for the best plumbing contractor in Skokie, Illinois, you've come to the right place — John J. Cahill Plumbing, Heating & Air Conditioning is here to help.
Our plumbers have helped countless homeowners throughout the Skokie area, ensuring that their plumbing systems are working to the best of their capabilities. Regardless of the plumbing problem you're facing, we can fix it — day or night. Contact us anytime at (847) 864-5225 to schedule an appointment.