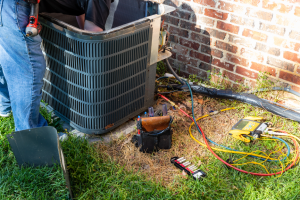 Air conditioning season in Chicago will be here before we know it. Before the time arrives, it's important to check your air conditioner to determine what kind of shape it's in, and whether it has what it takes to keep your home comfortable.
When it comes to air conditioning systems, there are several that can indicate the need for a professional repair. Are you wondering what these include? This AC repair company in Albany Park, Chicago is going to review some of the most common signs below.
Your Air Conditioner Is Short Cycling
One sign that your air conditioner might need repair is that it's short cycling. Short cycling is when an air conditioner turns on and off again rapidly without ever truly repeating a cycle. In most cases, when this is happening, cycles last for only a few seconds at a time.  
This might still succeed in cooling your home. However, it undoubtedly wastes energy. Plus, it puts unnecessary wear and tear on your AC, thereby reducing its lifespan.
If your AC is short cycling, you need to have it checked out by an AC repair company in Albany Park, Chicago as soon as possible. They can determine what's causing the issue and make all the repairs that need to be made.
Some of the common causes of short cycling include a mis-sized AC unit, thermostat connectivity issues, and dirty evaporator coils.
Your Home Still Feels Humid When Your AC Is Running
The function of the air conditioner is not only to eliminate heat but humidity as well. If your home still feels exceedingly humid despite your air conditioner running, it means that your AC is failing in some way.
What might cause this issue? It could be a lack of refrigerant. On the other hand, it could be dirty or worn evaporator coils.
Regardless, in these situations, you should have your system inspected by a professional AC repair company in Albany Park, Chicago. Their technicians can figure out the source of the problem and repair it as needed. 
You Have Inconsistent Temperatures Between Rooms
If you have central AC, the rooms in your home should, for the most part, have the same temperatures. If they don't, it's likely because something is blocking air from making it to certain rooms.
In many cases, the "something" that is blocking the air is dust and other such debris. This accumulates in duct systems over time, making it more and more difficult for air to go where it needs to go.
The solution? You should clean your ducts. This should be done every two to four years. While you could attempt to do it on your own, it's a somewhat intensive process, which is why most homeowners leave it up to the professionals.
There's Refrigerant Leaking from Your AC
The last sign you should look for is refrigerant leaking from your AC. Refrigerant should never leak from an AC system. If it does, it's because physical trauma occurred somewhere on the system, likely on its refrigerant line.
The refrigerant line leads from the condenser to the home. It could be impacted by falling branches or the like, causing its contents to leak out. If you don't fix this problem, your AC will eventually cease to produce cold air. Your local AC repair company in Albany Park, Chicago can quickly patch up any leaks in your system.
Looking for an AC Repair Company in Albany Park, Chicago?
Are you facing issues with your air conditioning system? Looking for a reputable AC repair company in Albany Park, Chicago that provides quick and affordable services? If so, look no further than our experts at John J. Cahill Plumbing, Heating & Air Conditioning.
Our AC technicians have repaired all types of systems throughout the Albany Park neighborhood and beyond. Regardless of the issue your AC is facing, we can offer a solution. Contact us today at (847) 864-5225 to schedule an inspection.