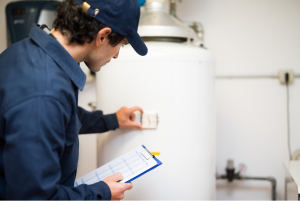 Whether you are washing dishes, doing laundry, or taking a shower, hot water is a near necessity in modern homes. While it's possible to live without it, it's certainly not something you'd want to endure.
As such, the functionality of your water heater is very important. As a homeowner, you'll want to keep an eye on your water heater and replace it before it stops working entirely. Are you wondering what you should look out for, specifically? Here is how to tell if you need a new water heater in Rogers Park, Chicago:
Your Water Is Rusty
A fairly common sign that you need to replace your water heater is that your water is rusty, or has a brownish tint to it. This occurs when the inside of the water heater has started to rust. The rust flakes off into the water, giving it its brownish color.
Now, using this water to shower isn't the end of the world, but it's certainly not ideal. Therefore, as soon as you notice this issue, it's recommended that you replace your water heater.
In most cases, this starts to occur after around 15 to 20 years of use. This is the typical end-of-the-line for a water heater, and it's the perfect opportunity to replace it.
Your Water Isn't Being Heated
As its name implies, a water heater's job is to heat water. If it isn't heating the water that runs through it, then it's not doing its job. With that said, as soon as you're unable to get any hot water out of your faucet, it's time to contact your local plumbing company in Rogers Park, Chicago.
Any number of problems could be occurring. For example, a circuit could have tripped. On the other hand, the pilot light within the water heater could be extinguished. If the water heater is several years old, you could be dealing with a motor failure.
Regardless of the issue, we recommend contacting a water heater company in Rogers Park, Chicago to schedule an inspection. It could get by with a repair, or it might need to be replaced entirely.
Your Water Heater Is Noisy
Water heaters shouldn't be making a lot of noise. In fact, you shouldn't notice them at all. 
Therefore, if your water heater is making a lot of noise, there's plenty of reason to believe that there's something wrong with it. 
In many cases, sediment buildup within the water heater can cause it to make strange noises. If there's sediment inside of the water heater, its components could have trouble interacting with one another, leading to functional issues that result in banging sounds.
This is a problem that can usually be fixed. However, if the water heater is relatively old, your Rogers Park water heater specialist might recommend a full replacement instead.
Your Water Heater Breaks Down Frequently
The last sign that it's time to install a new water heater in Rogers Park is that your current water heater breaks down often. If this is the case, then you could be spending more money on repairs than you would on a new water heater altogether.
Most water heaters rarely need to be repaired. As such, if you're repairing your water heater every year or so, it has most likely run its course.
Ready to Install a New Water Heater in Rogers Park, Chicago?
Are you having trouble with your home's water heater? Looking for a new water heater installation company in Rogers Park, Chicago? If so, the licensed plumbers at John J. Cahill, Inc. are the people to call.
Our crew has replaced countless water heaters throughout Rogers Park and its surrounding areas. Regardless of the type of water heater you're looking to install, we can get the job done right. Contact us today to get started.