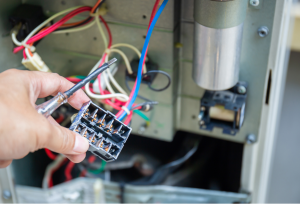 Winter will be here before we know it, which means it's almost time to fire up your furnace. Unfortunately, furnaces are not indestructible, and some homeowners find that theirs is no longer working when they go to turn it on.  
Have you found yourself in this situation? Wondering whether it's time to call the professionals? If so, you've come to the right place. This furnace repair company in Evanston, Illinois is going to review some of the most common signs that there's an issue with your system.
You Smell Gas
One of the surest – and most dangerous – signs that your furnace needs to be repaired is that you smell gas. A furnace gas leak has the potential to cause an explosion. It could also indicate the leaking of carbon monoxide, a highly dangerous gas that is deadly with only small amounts of exposure.
As soon as you smell gas, you should get out of the home. Once you're a good distance away from your home, you should contact your gas company then call your local furnace repair company in Evanston, Illinois.
They'll come to your home, shut off your gas line and then tend to your furnace to eliminate the source of the problem. In most cases, gas leaks are caused by cracked heat exchangers. If this is the case, yours will need to be replaced.
Your Energy Bills Are Going Up Unexpectedly
Another sign that your furnace might need repair is that your energy bills are going up unexpectedly. Because your HVAC system comprises a large portion of your home's energy usage, any negative change in it is likely to result in a large price spike.
If this is the case, any number of things could be wrong with your furnace. One of its components could be damaged. Its adjacent ducts could be clogged with dust and debris. It might even be past its prime, therefore necessitating a replacement.
In any case, you should have your furnace inspected by a reputable furnace repair company in Evanston, Illinois. They'll find the source of the issue and make all necessary repairs.
Your Furnace Struggles to Start
In the past, your furnace started up without worry. These days, however, it seems to struggle every time it's needed. This is a sign that a repair is necessary.
What causes this problem? It could be variety of things. A dirty flame sensor could be the culprit. It could also be caused by dirty secondary heat exchangers. Even a dirty filter could cause this problem to arise.
Regardless, it's best assessed by a professional furnace repair technician. They'll determine what's causing the issue and make all necessary repairs.
Your Furnace ace Is Making Strange Noises
Your furnace shouldn't be making any notable noises. If it is, there's undoubtedly something wrong with it.
For instance, a banging noise might indicate a bad ignitor or low gas pressure. A squealing noise would generally indicate a loose or worn belt. A rattling noise tends to indicate a loose or broken component.
None of these noises should be ignored. In fact, they should be addressed as soon as possible. The longer you allow them to persist, the more damage your furnace will receive. Do not hesitate to contact your local furnace repair company in Evanston, Illinois for an inspection.
Looking for the Best Furnace Repair Company in Evanston, Illinois?
Is your furnace showing any of the signs reviewed above? If so, and if you're ready to have it inspected by the best furnace repair company in Evanston, Illinois, our experts at John J. Cahill, Inc. are the people to call.
Our technicians are well-versed when it comes to repairing all types of heating systems. Regardless of the problem with your system, we can find a solution. Contact us today at (847) 864-5225 to schedule an appointment.