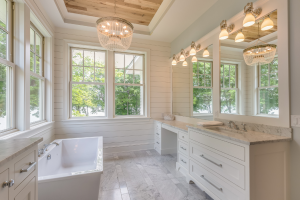 Are you thinking about making some upgrades to your home? If so, one of the best investments you can make is remodeling your bathroom. Bathroom remodels are an excellent way to add value to your home, improve functionality, and give yourself more space to relax and unwind.
Whether you're looking for a full-scale redo or just minor updates, working with a professional bathroom remodeling company will help ensure that the job gets done properly and efficiently.
Below, this bathroom remodeling company in Highland Park, Illinois is going to explore some of the top benefits of investing in bathroom remodeling.
An Updated Bathroom Can Add Value to Your Home
When it comes to home improvement projects, remodeling your bathroom can significantly increase the value of your property. In fact, bathroom remodeling projects typically have a higher return on investment compared to other renovation projects around the house.
Investing in a professional bathroom remodel will not only improve the overall look and feel of the space, but it will also add significant resale value to your property.
A professionally done bathroom remodel will make your space more appealing and modern, which is desirable for potential buyers. If you decide to put your home on the market, this could result in better offers. Conversely, if you're planning on staying in your current home for years to come, having an updated bathroom that you love will make everyday life more enjoyable and comfortable.
Bathroom Remodels Can Improve Home Safety
Beyond adding value to your property and making it a more attractive option for future buyers, remodeling your bathroom can also make the space safer. This is especially important if you have young children in the home.
Having an updated bathroom will ensure that all safety regulations are up to date. When you work with a professional bathroom remodeling company in Highland Park, Illinois, they will ensure that all your plumbing features are properly installed so that you can enjoy greater peace of mind when it comes to the safety of your family.
Remodeling Your Bathroom Can Increase Efficiency and Functionality
Remodeling your bathroom can improve the efficiency and functionality in the space. Although you may not realize it, outdated fixtures and plumbing systems can result in higher utility bills and frequent maintenance.
A reputable bathroom remodeling company in Highland Park, Illinois can help you upgrade to more efficient systems, such as low-flow toilets, showerheads, and faucets.
Not only will these upgrades improve the efficiency of your bathroom, but they may also be eligible for rebates or tax credits from your local municipality. This makes a professionally done remodeling project an even more attractive option for both current homeowners and future buyers alike.
You Can Lower Your Monthly Utility Costs
Finally, remodeling your bathroom can also help lower your monthly utility costs. By investing in energy-efficient plumbing fixtures, you can reduce the amount of water you consume each day. This will not only result in lower utility bills, but it can also reduce your carbon footprint.
Looking for a Bathroom Remodeling Company in Highland Park, Illinois?
Now that you are aware of some of the top benefits of upgrading your bathroom, are you ready to get started with your project? If so, and if you're ready to meet with the premier bathroom remodeling company in Highland Park, Illinois, our professionals at John J. Cahill Plumbing, Heating, & Air Conditioning will be happy to work with you.
For more information about our bathroom remodeling services, contact us today at (847) 864-5225.