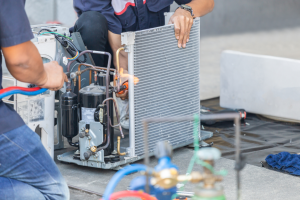 When installed correctly, air conditioners shouldn't break down very often. However, air conditioners do not last forever — after enough time, they will eventually start to break down. When they do, it's important to have them repaired by the experts as soon as possible.
Are you wondering whether it's time to contact the professionals? This AC repair company in Evanston, Illinois is going to review the five most common signs below.
1. Is Your AC Making Strange Noises?
One sign that it's time to have your AC serviced is that your AC is making strange noises. These could be squealing noises, banging noises, or otherwise. Any noise out of the ordinary is a sign that there's something wrong.
Squealing noises typically indicate a broken or loose belt, which will likely need to be replaced. A banging noise can indicate something is stuck in the condenser. If this is the case, it will need to be removed. In addition, internal components of the condenser may need to be repaired or replaced.
Regardless of what the noise is, it's best to contact your local AC repair company in Evanston, Illinois. They'll find the source of the noise and do what's necessary to make the fix.
 2. Is Your AC Short Cycling?
Another indication that your AC needs to be repaired is that it is short cycling. This is when the AC runs for a few seconds, turns off for a few seconds, turns back on, and then repeats the process over and over.
What causes this? It could be a mis-sized AC unit. On the other hand, it could be caused by a bad thermostat connection or even dirty evaporator coils.
Regardless of the cause, it's best to contact your local AC repair company in Evanston, Illinois for an inspection. They'll determine what's causing the issue and then make repairs as needed.
3 . Is Your AC Taking a Long Time to Start?
In most cases, when you make a change to your thermostat, your AC will respond to that change almost instantly. If it's taking longer than 30 seconds to respond, there is likely something amiss.
In most cases, this is caused by a bad thermostat connection. It could also be due to a refrigerant leak, a dirty air filter, or dirty coils. Regardless, if you notice this problem over time, it's best to contact the professionals. They'll be able to assess the issue and make all the necessary repairs.
4. Are There Temperature Discrepancies from Room to Room?
Have you ever noticed that your kitchen is at 68°F, while your bedroom is 72°F? If so, this is a clear sign that your AC isn't producing consistent temperatures across your house.
Why is this happening? In most cases, it's because your ducts are clogged. Because dust has piled up inside your ducts, the air isn't being evenly distributed from room to room. Therefore, some rooms are getting colder than others.
The best solution is to clean your air ducts. You could attempt this on your own. However, most reputable AC repair companies have the tools and knowledge needed to complete these projects quickly and efficiently.
5. There's Refrigerant Leaking from Your AC
The last sign that it's time to call an AC repair company in Evanston, Illinois is that there's refrigerant leaking from your AC. If this is happening, your AC won't be able to produce cold air. 
In most cases, you'll see refrigerant leak next to the condenser, which typically originate from the refrigerant line. If there's liquid dripping in this area, your AC system will need a patch and a refrigerant refill. Your local AC repair technician can get the job done for you.
Looking for an AC Repair Company in Evanston, Illinois?
Have you noticed any issues with your air conditioner lately? Looking for a reputable AC repair company in Evanston, Illinois? If so, look no further than the team at John J. Cahill Plumbing, Heating & Air Conditioning.
We have repaired countless air conditioners throughout the Evanston area. Regardless of the issue your AC is facing, our skilled and experienced team can fix it. Contact us today at (847) 864-5225 to get started.