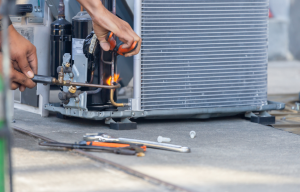 Air conditioning systems are designed to be durable and reliable. However, as we get into the late summer months, it's not uncommon for homeowners to start noticing performance issues with their air conditioning system.
Have you noticed that something is a little "off" with your AC system lately? Wondering whether it's time to call the professionals? To help you decide, this AC repair company in Evanston, Illinois is going to review some of the most common signs that it's time for an AC repair.
Is It Leaking?
A certain sign that you need to repair your air conditioner is that it's leaking. This is most likely to occur from the AC's refrigerant line. Located between the condenser and your home, this line is wrapped in insulation and generally black in color.
If something makes hard contact with this line, it can become pierced, resulting in a leak. Should refrigerant leak from your AC system, it will eventually fail to create cold air. Therefore, you need to refill your AC with refrigerant and patch the line thoroughly.
Your local AC repair company in Evanston, Illinois can get the job done for you. Their technicians will have not only the knowledge needed to complete the task, but the resources as well.
Is It Making Loud Noises?
Another sign that you need AC repair is that your AC is making loud noises. These could be anything from banging noises to squealing noises to grinding noises and more. Regardless, they should not be coming from an air conditioner. If they are, there's undoubtedly something wrong.
Banging noises are often caused by something being stuck in the condenser. Squealing noises are generally caused by loose or broken belts. Grinding noises could indicate a compromised motor or maybe even problems with the condenser impeller.
Your best bet is to have your local AC repair company in Evanston, Illinois inspect your system. An experienced technician will know exactly how to diagnose and repair the issue.
Is It Short Cycling?
You're also going to want to keep an eye out for short cycling. This is when the AC turns on for a few seconds, turns off for a few seconds, and repeats that process repeatedly. It not only reduces energy efficiency, but it also puts substantial undue wear and tear on the AC, causing it to break down prematurely.
What causes this problem? It can be several things. In some cases, the AC is simply the wrong size. In other cases, its evaporator coils are dirty or its thermostat is broken. Fortunately, all these problems can be easily remedied by a professional AC repair company in Evanston, Illinois.
Is It Blowing Foul Odors into Your Home?
The last sign that you need AC repair is that your AC is blowing foul odors into your home. In most cases, these will be musty odors.
Where are they coming from? The residue that's trapped within your duct system. Whether it's mold spores, dust mites, pet dander, or otherwise, it's blown by the wind created by your AC and driven out into your indoor environment. A foul smell arises.
The fix, of course, is to clean out your duct system. If you can't do this on your own, an HVAC repair tech can do it for you.
Looking for a Professional AC Repair Company in Evanston, Illinois?
Is your AC showing signs of damage? Looking to have it repaired? If so, John J. Cahill, Inc. is the company to call.
As the most trusted AC repair company in Evanston, Illinois, our technicians have repaired countless systems for home and business owners throughout the area. Contact us today at (847) 864-5225 to get started.