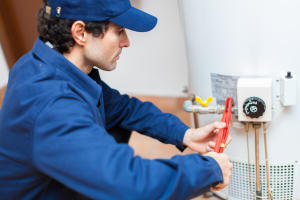 Without a functional water heater on your side, life becomes a lot more difficult. Not only will you have trouble washing dishes and clothes, but you'll also be subject to some cold and uncomfortable showers. 
Once your water heater shows any signs of issues, it's important that you address them as quickly as possible. Are you wondering about some of the specific signs you should look out for? Here are five signs that it's time to for a water heater replacement in Edgewater, Chicago.
 1. Your Water Appears to Be Rusty
One indication that you might need to replace your water heater is that your water looks rusty. In other words, it possesses a reddish-brown tint. When this occurs, it's usually because the inside of the water heater is starting to rust, and therefore allowing rust particles to flake off into the water that passes through.
Unfortunately, this is a problem that can't be fixed. Once rust has presented itself, it can't be eliminated. As such, you'll have no choice but to contact your local water heater replacement company in Edgewater, Chicago.
2. You're Not Getting Hot Water
A sure sign that your water heater isn't working is that you're not getting hot water through your faucets. Now, this doesn't necessarily mean that you'll need to replace your water heater. However, it, at the very least, requires a repair.
 If the water heater is yet to reach seven years of age, there's likely something wrong with its electrical wiring. If it's over seven years of age, it's likely just reached the end of its lifespan, in which case, it will need to be replaced. Regardless, your local plumber can help you take the necessary action.
3. The Water Heater's Inlet Valve Is Rusty
Another indication that your water heater needs replaced is that its inlet valve is rusty. This valve will resist the effects of corrosion for years but will eventually start to rust. Once it does, it's only a matter of time until your water starts becoming rusty.
Where is the inlet valve on your water heater? In most cases, it will be at the top of the water heater. Monitor it over time, and make sure you call your plumber at the first sign of rust.
4. Your Water Heater Is Vibrating Excessively
As time passes, the minerals within your water cling to the interior of your water heater. The more that these minerals accumulate, the harder time your water heater is going to have.
At some point, your water heater will encounter such a struggle that it will start vibrating excessively. It's at this point that you will need to flush out your water heater or perhaps even have it replaced. To determine the correct course of action, you should have the system looked at by a water heater replacement company in Edgewater, Chicago.
5. There Is Water Outside of the Water Heater
Your water heater should never, under any circumstances, be leaking. If it is, it's suffered structural issues of some manner. In some cases, these issues can be repaired by a professional plumber. Note, though, that they could indicate the end of your water heater's lifespan.
 In any case, you should reach out to a reputable water heater replacement company in Edgewater, Chicago. Their crew will be able to determine the best course of action going forward.
Looking for a Water Heater Replacement Company in Edgewater, Chicago?
Is your water heater showing signs of damage? If so, and if you're looking for the best water heater replacement company in Edgewater, Chicago, look no further than the experts at John J. Cahill, Inc.
Contact us today at (847) 864-5225 to request a free quote.