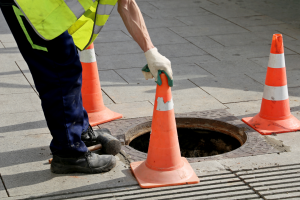 Over time, grease build up and tree roots can cause your drain, pipes, and sewer lines to become clogged and blocked. Unfortunately, a clog in any part of your commercial plumbing system can result in substantial damage. For one, there is the risk of mold growth. Mold growth not only makes your Morton Grove, IL establishment unhealthy and unsafe, but the mold remediation process is also fairly expensive. Then there is the risk of leaks. Water loss due to leaks costs you money, and repairing the leaks is not exactly cheap either. So, what should you do to clear up clogs in your sewer line?
What is Sewer Rodding in Morton Grove?
Sewer rodding is one way to clear a blockage, prevent further complications, and get your commercial plumbing system working efficiently again. This process restores the water flow through the pipes and gets them back to how they were when the pipes were new. By resolving the clog before mold takes over or a leak develops, you can save thousands of dollars on future repairs.
Unlike chemical cleaners and other procedures, sewer rodding can locate and remove clogs with complete accuracy. Thanks to the accuracy of the process, you can use sewer rodding on a range of blockages. It works on small clogs — like a clog in your bathroom sink or toilet — or significant blockages in your sewer line.
If you have a compromised commercial plumbing system and need it repaired, calling a plumbing company specializing in sewer rodding in Morton Grove, Illinois, is your best bet. The process is simple, quick, and affordable. Although you might not be eager to spend the money, it is a small investment that could save you thousands of dollars in the long run.
Can You Attempt Morton Grove Sewer Rodding Yourself?
The short answer is: No. Sewer rodding is not a DIY project, and it should be left to the professionals.
The plumbing rods used to remove a blockage in your drain or pipe are specialized, three-foot-long flexible rods that are screwed together end to end. These are not just any rods found at the local hardware store: these are made of a specialized material — polypropylene — that makes it flexible enough to make it through the bends in your pipe or drain, yet firm enough to push out a blockage. Not to mention, the procedure of feeding a rod through a pipe or drain can be tricky.
Since sewer rodding is a complicated task that involves specialized plumbing equipment that is hard to find, it should only be done by trained, experienced plumbers in Morton Grove, IL. Using a sewer rod without adequate training or experience can do more harm than good. You could do significant damage to your pipes, requiring the need to hire a trained plumber anyway. If you want the blockage removed safely and effectively, trust a professional plumbing company.
Professional Commercial and Residential Sewer Rodding Company in Morton Grove, IL
When you are staring down a backed-up drain, turn to the team at John J. Cahill Inc. We have the experience, expertise, and equipment to restore the safety and efficiency of your plumbing system. Our trained, experienced plumbers use sophisticated fiber-optic video equipment for sewer line inspections to ascertain the extent of the blockages. If rodding is not enough to solve the problem, our team also conducts complete sewer repairs.
John J. Cahill, Inc. serves commercial property owners throughout the Morton Grove, IL North Shore area. Contact us at (847) 864 5225 to request an inspection of your sewer line. We are ready to take your call 24/7!