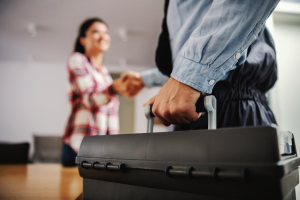 All modern homes rely on a functional plumbing system. Unfortunately, it's not uncommon for a residential plumbing system to run into issues. That's why plumbers exist — they help combat these problems, ensuring that your plumbing systems remain functional and reliable.
Are you interested in learning about some of the plumbing services that are available to homeowners in the Albany Park area? If so, you've come to the right place. This plumbing company in Albany Park, Chicago is going to review them below.
Sump Pump Services
If you have a basement, you're strongly advised to make use of a sump pump. A sump pump will prevent your basement from flooding, and will also help prevent musty smells, mold growth, and general property damage.
If you're interested in installing a sump pump, or if your existing sump pump needs repair, you should give a call to your local plumbing company in Albany Park, Chicago. Plumbers have all the skills, knowledge, and resources needed to ensure that your sump pump is operating as intended.
Drain Cleaning
Over time, drains become subject to all sorts of grime and residue. This grime and residue accumulate within the drain, making it more and more difficult for water to travel through it. It's at this point that drain cleaning becomes necessary.
For minor drain clogs, you might be able to fix the problem yourself with a plastic snake or liquid drain cleaner. However, in more severe cases, you're going to need to utilize the services of an Albany Park plumber.
Plumbers have all sorts of tools for cleaning drains. These run the gamut from long, metal snakes to flexible rods and more. With the use of these entities, your local plumber will have your drain cleaned in no time.
Sewer Cleaning
Just as drains sometimes need cleaning, so too do sewer lines. In fact, if you don't clean your sewer line at least once every few years, you could have to contend with sewage backup. Trust us: this is the last thing you want to contend with.
Fortunately, plumbers are well-versed in the process of sewer cleaning and can help you rid your sewer line of all obstructive residue. In general, sewer cleaning is facilitated with the use of rods. These rods can bend to varying angles, allowing them to access even the tightest corners of your drain line.
Need to clean your sewer line currently? Give us a call today.
Water Heater Services
Your water heater is perhaps the most important appliance in your home. It's difficult to accomplish everyday tasks without the use of hot water.
Who do you turn to when water heater services are needed? Your local plumbing company in Albany Park, Chicago. From water heater installation to water heater repair to water heater maintenance and everything in between, your plumber has you covered.
Flood Control Solutions
In Albany Park and its surrounding areas, many homes are vulnerable to flooding. That is why so many homeowners utilize flood control solutions at their properties.
Who should you call when you want to implement flood control solutions for your home? Your local plumbing company in Albany Park, Chicago. When you partner with the right company, their technicians will be able to set up everything from sump pumps to overhead flood prevention systems and more. 
Looking for the Top-Rated Plumbing Company in Albany Park, Chicago?
Could your home benefit from any of the services reviewed above? If so, and if you're looking for the top-rated plumbing company in Albany Park, Chicago, look no farther than the experts at John J. Cahill, Inc.
Our plumbers offer all the services discussed above and more. Regardless of your home's plumbing needs, we're the people to call. Contact us today at (847) 864-5225 to learn how we can help.