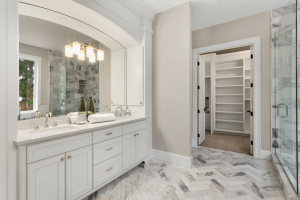 Bathroom remodeling can be an exciting project for homeowners, but it can also be a daunting task. One of the biggest concerns homeowners have when it comes to bathroom remodeling is the cost.
Are you thinking about remodeling your bathroom, but would like some information about the financial side of these projects? If so, you've come to the right place. Below, this bathroom remodeling contractor in Lake Forest, Illinois is going to explore the factors that can affect the cost of a bathroom remodeling project, and we'll also provide some tips on how to determine your budget.
Factors That Can Affect Bathroom Remodeling Costs
The cost of a bathroom remodeling project can vary depending on several factors. These include the following:
Size of the Bathroom: The size of the bathroom plays a significant role in determining the cost of the remodeling project. A larger bathroom will require more materials and labor, which will increase the cost.
Quality of Materials: The quality of materials used in the remodeling project can also affect the cost. High-quality materials will be more expensive than lower-quality materials.
Plumbing and Electrical Work: If the bathroom remodeling project requires significant plumbing or electrical work, the cost can increase.
Design Complexity: A more complex design will require more time and expertise, which can increase the cost of the project.
Contractor's Experience: The experience level of your bathroom remodeling contractor in Lake Forest, Illinois can also affect the cost. An experienced contractor may charge more, but they may also be able to complete the project more efficiently and with higher quality.
Budgeting for a Bathroom Remodeling Project
Before starting a bathroom remodeling project, it's essential to determine a budget. Here are some steps to help you create a budget for your bathroom remodeling project:
Determine Your Priorities: Make a list of the features and elements you want to incorporate into your new bathroom. Determine which features are essential and which ones you can live without.
Research Costs: Research the costs of materials, labor, and other expenses associated with bathroom remodeling. This will give you an idea of what to expect when it comes to the cost of your project.
Set a Realistic Budget: Set a budget that is realistic and within your means. Be sure to include a cushion for unexpected expenses.
Stick to Your Budget: Once you have set a budget, stick to it. Avoid making changes or additions to the project that will increase the cost.
Estimating Bathroom Remodeling Costs
Estimating the cost of a bathroom remodeling project can be tricky. Here are some steps to help you estimate the cost of your bathroom remodeling project:
Get Quotes: Contact several bathroom remodeling contractors in Lake Forest, Illinois, and request quotes for your project. Be sure to provide detailed information about the project, including the size of the bathroom, the materials you want to use, and any special features you want to incorporate.
Compare Quotes: Once you receive quotes from several contractors, compare them to determine which one offers the best value for your money. Be sure to consider factors such as experience, reputation, and references.
Factor in Additional Costs: In addition to the contractor's quote, be sure to factor in additional costs such as permits, materials, and labor.

Plan for Contingencies: Plan for contingencies by setting aside a portion of your budget for unexpected expenses.
Bathroom Remodeling Ideas for Different Budgets
Here are some bathroom remodeling ideas for different budgets:
Budget-Friendly: If you are working with a tight budget, consider updating fixtures such as lighting, faucets, and hardware. You can also paint the walls and cabinets to give the room a fresh look.

Mid-Range: For a mid-range budget, consider replacing the bathtub or shower, adding new tile, and updating the vanity.

High-End: If you have a higher budget, consider adding luxury features such as a spa tub, heated floors, and a custom shower.
Looking for a Bathroom Remodeling Contractor in Lake Forest, Illinois?
Now that you have a better understanding of the financial considerations, are you ready to get started with your bathroom remodel? If so, John J. Cahill Plumbing, Heating & Air Conditioning is here to help.
As the top-rated bathroom remodeling contractor in Lake Forest, Illinois, we have been helping homeowners create unique, functional, and beautiful bathrooms for decades. Contact us today at (847) 864-5225 to discuss your vision.