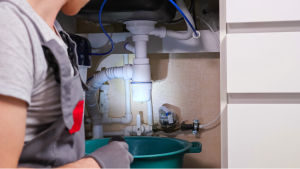 By and large, residential plumbing systems are reliable. They rarely run into catastrophic problems, and they typically perform just fine without any outside assistance. With that said, plumbing systems are not perfect — in some situations, a plumbing system might encounter a serious issue that requires an immediate repair.
This is when an emergency plumber comes into the picture. Are you interested in learning about some of the situations that require an emergency plumbing contractor in Skokie, Illinois? We are going to discuss the four most common situations below.
1. One of Your Pipes Has Burst
The surest sign that you need an emergency plumber is that one of your pipes has burst. If a pipe has burst, water is going to come pouring out of it until it has been shut down and repaired. Allowing a burst pipe to go unchecked will eventually result in substantial water damage.
Therefore, the second you notice the problem, you should contact an emergency plumbing contractor in Skokie, Illinois. The sooner your plumber can get to your home, the better off you'll be. In the meantime, shut off the main valve so as to prevent further water accumulation.
2. You Don't Have Hot Water
Another sign that you need an emergency plumber is that you don't have hot water. Without hot water, you can't take comfortable showers. You can't properly wash dishes. You might even struggle to cook. In short, a home without hot water is not a fully functional home.
Fortunately, emergency plumbing contractors in Skokie, Illinois. are well-versed when it comes to repairing and replacing water heaters. Make the call, and you'll have your hot water back again soon.
3. Your Water Pressure Is Low
Every once in a while, you might notice that your water pressure is much lower than it usually is. While this might not be the end of the world, it can create a fair number of problems. A lack of water pressure can make it difficult to clean and can also waste precious time.
It could also signify that there's something wrong with your plumbing system. For instance, there could be a mineral clog within one of your water pipes. Left unchecked, this could eventually cause the pipe to burst.
In other words, this is something that needs to be fixed sooner rather than later. Fortunately, an emergency plumbing contractor in Skokie, Illinois should be able to get the issue fixed relatively quickly.
4. Your Ceiling Is Sagging
The most troubling sign that you need the services of an emergency plumber is that your ceiling is sagging. Typically, if your ceiling is sagging, a water leak is the culprit. The longer you allow this problem to go unattended, the more water damage your home will incur and the more extensive the repairs will be.
That is why, the second you notice this problem, you should call an emergency plumber. Your plumber will find the location of the water leak, make their way into your wall, and then fix the offending pipe. With any luck, you'll solve the problem soon enough to avoid any substantial damage to your home.
Looking for an Emergency Plumbing Contractor in Skokie, Illinois?
If you are dealing with any of the issues reviewed above, it's strongly recommended that you call a professional as quickly as possible. Has your plumbing system encountered an unexpected problem? If so, and you're looking for an emergency plumbing contractor in Skokie, Illinois, the team at John J. Cahill, Inc. is here to help. 
Regardless of the plumbing problem that you're up against, our team of skilled and seasoned plumbers can offer a solution. We'll show up as quickly as we can, assess the issue, and correct it in a timely manner.
Contact us anytime at (847) 864-5225 for immediate assistance.